Help Hello Everybody! Compete in Showdown Montclair!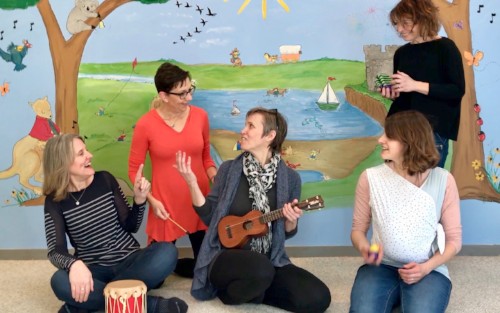 Hello Everybody!
Hello Everybody! is thrilled to support MFEE and Montclair's fabulous public schools. We all teach for Music Together of Montclair--family music classes that have been bringing music and families together since 1998.  We're all proud parents of children who have or will attend public school in Montclair.  Between Leslie, Anne, Katie and LeAnne, we've experienced almost all of the schools in Montclair--the exception is Becca who has a toddler and a newborn who will be in MHS class of 2036!!!  
If you're reading this, chances are we had you in class.  We hope our Music Together Families are going to push us WAY over the $750 mark and give us the MOST leg ups in this competition!  You know us as your children's music teachers, but we are in this to win it (raise the most money of all the acts) and YOU can help us do it!!!!  Hello Everybody! needs your help today!
We'll see you soon again, and then we'll make music together again!
We have raised
$210.00
of our goal.
Shout Outs to Hello Everybody!
Love this! You're fabulous and will win! -- Jeri Leer
Can't wait to see you perform! -- Masiel
Many years ago Niamh and I danced and sang our little hearts out with LeAnne! Happy to support MFEE and all you fabulous mommas. -- Geraldine Cahill
Some of our favorite MT teachers! -- Jenny Skinner
So proud of you amazing women! Whee! -- Laura Frey
So exciting! Can't wait to cheer you on! -- Mary Beth Weil
Donate to help Hello Everybody! compete! All proceeds support the Montclair Public Schools.